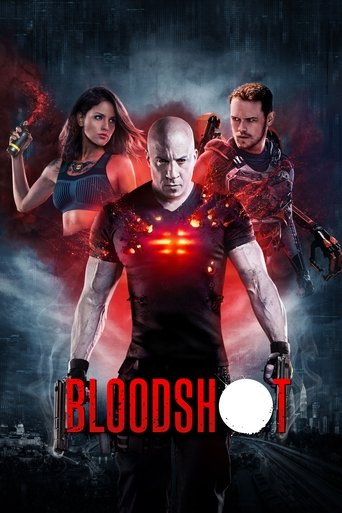 "Being a superhero is in his blood"
After he and his wife are murdered, marine Ray Garrison is resurrected by a team of scientists. Enhanced with nanotechnology, he becomes a superhuman, biotech killing machine—'Bloodshot'. As Ray first trains with fellow super-soldiers, he cannot recall anything from his former life. But when his memories flood back and he remembers the man that killed both him and his wife, he breaks out of the facility to get revenge, only to discover that there's more to the conspiracy than he thought.
Genre:
Stars:
Director:
Writer:
Jeff Wadlow
Eric Heisserer
Kevin VanHook
Production:
Sony Pictures
Cross Creek Pictures
Mimran Schur Pictures
Original Film
The Hideaway Entertainment
Valiant Entertainment
Columbia Pictures
One Race
Bona Film Group
Release Date: 2020-03-05
Status: Released
Original Title:
Bloodshot
5.3 / 10 / 114 Ratings
7.1 / 10 / 2346
Popularity: 174
5.7 / 10 / 39,741
ID:
tt1634106
Country:

CN, US

Language:

English

Runtime:

110

Budget:

$42,000,000

Revenue:

$24,573,617
Video Server
No video available, meanwhile enjoy the trailer.
Movies Subtitles